Blog: Africa in the World
Exploring the African presence and engagement with the world.
2020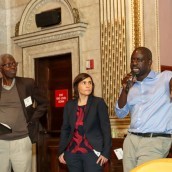 The Restitution Debate - African Art in a Global Context
2019

Faculty Spotlight: Elleni Centime Zeleke

Columbia's Global Africa Seminar

Faculty Spotlight: Adam Day
2018

Meet Belinda Archibong - Faculty Spotlight

Research Masterclass in Nigeria

The 15th Annual African Economic Forum

Meet Wendell Marsh - Student Spotlight

US Foreign Policy in Uganda - Another Fine Mess
2017

A take on the Politique de la Rue conference
2016
Five Questions about Paratransit in African Cities
IAS Awarded Grant to Launch the "The African Humanities Project: A Collaborative Education and Research Program"

A Take on the Socialismes en Afrique conference: Álvaro Luis Lima

A Take on the Socialismes en Afrique conference: Matt Swagler

Self-Conception and Aesthetic Choices in the Studio: The Photos of J. Kitty Moodley
Professor Mamadou Diouf on Mapping the African Diaspora and UNESCO's General History of Africa (GHA) Project
Columbia's Professor Larkin on what the Nollywood conference about?
Human Rights Advocacy Program: Panel Discussion
2015
Review of Islam and Peace International Conference

Review: Islam & World Peace Conference
Bamako: Social Science Research in the Context of Crisis
2014
How not to write about Africa: Use "Africa Spring"
2013
The Vision of Seme 107 Years On: Is Civilization Still A Dream and Is the Regeneration of Africa Possible?

From Classroom to Conflict in Rwanda

Blood Economies in East Africa - A Discussion with Melissa Graboyes

Learning Yoruba at the University of Ibadan

Gregory Mann discusses Mandela


A (More) Sober Senegalese Government

Land Patron or Landlord? Land Ownership and Political Mobilization in Kenya
No results
There are no publications with the provided filters.