February 07, 2022
The Middle East, South Asian, and African Studies department at Columbia University is pleased to announce its annual Gradual Student Conference. Our theme this year interrogates borders and boundaries and through our conference we hope to complicate the naturalization of these formations as well as the concepts and methodologies that engage them.
April 15, 2019
On March 25th, The Royal Academy of Belgium elected Souleymane Bachir Diagne as an Associate member of its Class for Letters and Moral and Political Sciences. The official induction ceremony will take place on October 5, 2019 in Brussels at the Palais des Académies.
Votes that Bind: Ethnic Politics and the Tyranny of Numbers

Self-Conception and Aesthetic Choices in the Studio: The Photos of J. Kitty Moodley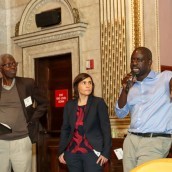 The Restitution Debate - African Art in a Global Context

Mali prime minister's resignation edges the country closer to war
There are no upcoming events.