James Maker Atem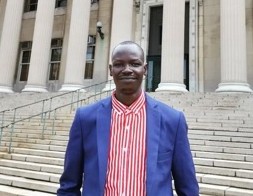 James is originally from South Sudan. He is pursuing a Master of International Affairs '23 at Columbia University's School of International and Public Affairs, with double specializations in United Nations Studies and International Conflict Resolution.
He holds a bachelor's degree in Conflict Resolution and Humanitarian Assistance and a Master's in Diplomacy and International relations from Masinde Muliro University of Science and Technology in Kenya. He co-authored an article with his supervisor on the efficacy of the dispute resolution process among ethnic groups in South Sudan's Jonglei State, published in a peer-reviewed journal.
Before coming to the United States, James worked with UNHCR from November 2020 to August 2021 as a Tertiary Connected Learning Coordinator in Kakuma, Kenya. His roles entailed assisting with the day-to-day running of Turkana West University Campus, Technical Institutions, and Instant Network Schools monitoring.
As Tertiary Connected Learning Coordinator, he helped plan, implement, and report Microsoft Project inputs at Turkana West University Campus. This role entailed advancing 15,000 young refugees and the host community's digital skills and training using digital equipment and resources.
He was responsible for coordinating the Microsoft project and giving oversight and direction to the thirty-five ICT Coaches in seven Instant Network Schools (INS) and Youth Centers in Kakuma camp. In addition, he received direct reports from the coaches who enrolled our participants in training sessions.
James also worked as a Part-time Lecturer at Masinde Muliro University of Science and Technology in Kenya from January 2017 to November 2019. He provided tutelage exercises in conflict resolution, international relations, diplomacy, political science, community development, and disaster management. He held several leadership positions as a student at the above University before becoming a member of the teaching staff, including being an elected student leader at the school of disaster management and humanitarian assistance of Masinde Masinde Muliro University of Science and Technology.
James is honing his leadership abilities by serving on the SIPASA Student Advisory Committee, which he joined last semester, a student organization for the School of International and Public Affairs (SIPA). He has been offered a Graduate Teaching Assistant role for the fall semester at Columbia SIPA. James believes in service delivery over the titles. He opined that if you're elected to a leadership position, you should perform the job duties diligently because many people are counting on you.
Finally, James is keenly interested in public policy, politics, diplomacy, law, development, and research! He enjoys every minute of his stay in New York City and his studies at Columbia University.