Graduate Certificate in African Studies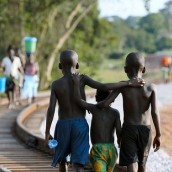 The graduate certificate in African Studies may be pursued by graduate students enrolled in any advanced degree program at the Graduate School of Arts and Sciences or any of the professional schools at Columbia University. It demonstrates specialized knowledge of African languages, history, culture, and politics. It is especially helpful for graduate students seeking to deepen their understanding of African studies while working on advanced degrees in the social sciences, humanities, sciences, and professional fields. Both master and doctoral students are encouraged to complete the certificate. 
Requirements: 
For the African studies certificate, students must take a total of eight (8) Africa courses (24 credits).
Courses: 
Only courses with 50% or higher Africa content are accepted for credit. At least two of these courses must be seminars for colloquia above the 6000 level (6 points). One course must be taken from each of the following disciplines: Anthropology (3 points); History (3 points); Political Science (3 points). Five (5) additional courses must be selected from approved courses in the various disciplines (15 points). 
Essay: 
Candidates must submit an essay for approval by the Institute. The essay must be an extended paper written for one of the certificate courses and reviewed by the IAS assistant director.
Language:
No more than six points of language courses may be counted toward the certificate (24 credits) and only indigenous African languages at the intermediate level or above are eligible. With the exception of language courses, credit toward the certificate is not given for undergraduate courses. Certificate candidates must pass a proficiency examination, both written and oral, in one of the following: French, Arabic, Portuguese or an African language. With special permission of the IAS assistant director, a language other than those mentioned above may be offered, provided it is relevant to the student's research and there is a substantial body of research literature available. A student's first language cannot be used to fulfill the language requirement. 
Contact Info: 
Dr. Jinny Prais
Associate Director
201 Knox Hall
Office hours by appointment